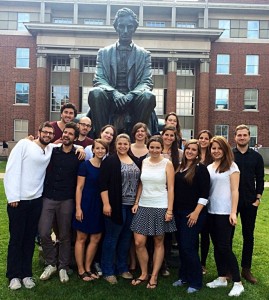 The 2014-2016 Atlantis Trans-Atlantic degree program cohort began their studies at the Maxwell School of Syracuse University during 2014.  These 16 students spent the fall of 2015 and spring of 2016 studying at the Hertie School of Governance in Berlin, Germany.
Benedikt Abendroth
Previous Degree: Bachelor of Arts in International Economics and Development, University of Bayreuth
Areas of Interest: Cyberpolicy and Security, Internet Governance
Current Employment: Senior Cybersecurity Strategist, Microsoft
Marc Barnett
Previous Degree:Bachelor of Arts in Politics and Philosophy, Wake Forest University
Areas of Interest:Organized Crime in Italy, Global Black Spots, Israel
Current Employment: Development Coordinator, Aythos, Inc.
Christian Bilfinger
Previous Degree:Bachelor of Arts in Politics, Economics & Philosophy, University of York
Areas of Interest: Diplomacy and Economic Power Relations
Current Employment: Deputy Head of Office, Konrad Adenauer Foundation – Mexico
Taylor Brown
Previous Degree: Bachelor of Arts in International Politics and Economics, Middlebury College
Areas of Interest: Security and Post-Conflict Reconstruction in Latin America
Current Employment: Analyst, BCE Consulting
Alison Harding
Previous Degree: Bachelor of Arts in Political Science and Media, Syracuse University
Areas of Interest: Post-Conflict Reconstruction and Global Black Spots
Current Employment: Press and Public Outreach Officer, USAID Office of Foreign Disaster Assistance
Isabella Hayward
Previous Degree: Bachelor of Arts in International Relations, London School of Economics
Areas of Interest: Humanitarian Assistance and Development Administration
Current Employment:  Research and Liaison Officer, World Bank
Katrin Heger
Previous Degree: Bachelor of Arts in Philosophy & Economics, University of Bayreuth
Areas of Interest: Peace and Conflict Studies, Civil-Military Relations, Security, Africa, Global Black Spots
Current Employment: Consultant, World Bank Group
Andrew Lyman
Previous Degree: Bachelor of Science in Business, DePaul University
Areas of Interest: International Peace and Conflict, Nuclear Non-proliferation
Current Employment: Mitvim, the Israeli Institute for Regional Foreign Policies
Celina Menzel
Previous Degree: Bachelor of Arts in International Relations, Dresden Technical University
Areas of Interest: Peace, Conflict and Post- Conflict Reconstruction
Current Employment: Project Manager,
Konrad Adenauer Foundation – Mexico
Viola Meyerweissflog
Previous Degree: Bachelor of Arts in Political Science and International Relations, University of York
Areas of Interest: NATO, German and European Foreign Policy, Terrorism, Cybersecurity
Current Employment: Research Assistant, Bertlesmann Foundation
Rachel Penner
Previous Degree: Bachelor of Arts in Sociology and Theology, Westmont College
Areas of Interest: Infrastructure Development, Water Security, Civil Society
Current Employment: Research Assistant, The Brookings Institution
Ellen Scherwinski
Previous Degree: Bachelor of Arts in European Studies, Maastricht University
Areas of Interest: Weapons Trade, Economics, and Terrorism
Recent Employment: Policy Researcher, RPP Group
Florian Sonntag
Previous Degree: Bachelor of Arts in International Relations, Dresden Technical University
Areas of Interest: Post-Conflict Reconstruction, Middle East and North Africa, Sub-saharan Africa
Current Employment: Teach First Germany Fellow
Tim Stoutzenberger
Previous Degree: Bachelor of Arts in Media and Communications, Catholic University of America
Areas of Interest: Energy Policy and Post-Conflict Reconstruction
Recent Employment: Consultant, Caritas Switzerland
Nicole Struth
Previous Degree: Bachelor of Arts in Political Science, Western Connecticut State University
Areas of Interest: Security, Regionalism, International Organizations, Non-State Actors in International Relations
Current Employment: Education and Special Projects Director, World Affairs Council of Connecticut
Theia-Lune Zijnen
Previous Degree: Bachelor of Arts in Law, University of Kent
Areas of Interest: Drug and Human Trafficking, African Development
Current Employment: City of Amsterdam